Welcome to Alexander's Landscaping – servicing the Foothills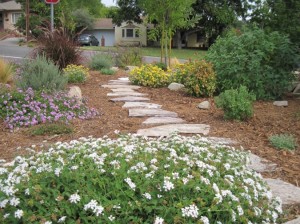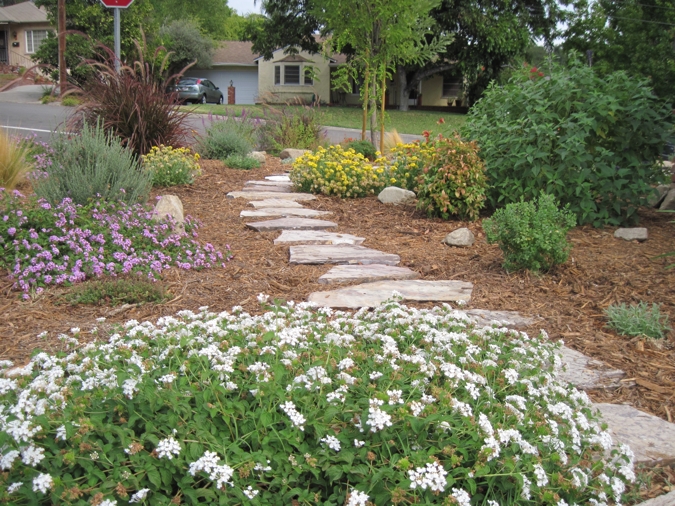 Alexander's Landscaping  has over 10 years of professional experience creating and transforming landscapes and gardens. We do everything from initial consultation, planning and design to the actual installation of patios, decks, pergolas, stone walls, laying of paving stone for walkways and driveways, creating relaxing ponds, organic vegetable gardens, lush plant displays, beautiful flower beds and hidden private getaways. We take pride in our exquisite designs and German quality workmanship.
We service the Foothills of Los Angeles: Shadow Hills, Sunland, Tujunga, La Crescenta and La Canada.
We also specialize in native gardens and xeriscapes*. (*Xeriscape is a landscape style which requires little or no irrigation or other maintenance, as shown above.) Native gardens use plants native to California and thereby restore our natural environment and ecosystem.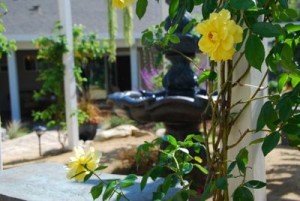 They are beautiful and require very little watering or other maintenance. These types of landscapes are modern and very popular, especially in areas such as Los Angeles, as they provide a lush and aesthetic atmosphere year round, while markedly reducing the use and cost of water and providing very easy maintenance.
Enjoy the dream garden you have always wanted!
Please contact us for any questions, with e-mail or by phone.
We look forward to hearing from you and working with you!
With Warm Regards,
Iris, Alex and Hans
Our experience with Alexander's Landscaping was outstanding .. they coupled the best of European craftsmanship and attention to customer care together with the ability to provide complete design, installation and vegetation advice together at an affordable price. M.H., La Crescenta
After enjoying our new garden for the past 10 days, we wanted to acknowledge the beauty and peacefulness that you added to our front yard.  Before the transformation, we viewed the front yard mostly as just another chore, a space requiring watering, mowing, pruning, fertilizing; the time we spent there was only to complete those tasks.  With the garden now in place, we sit in the front each morning and evening to enjoy the plants and the setting that you so artfully designed and built for us.  Butterflies and hummingbirds have been frequent, regular visitors from the day that the garden was completed.  The drought tolerant plants you selected will very substantially reduce the maintenance required, and we'll appreciate the savings benefit of the drip system every time the water bill arrives.   Though we had noticed several of your signs at job sites before contacting you, what motivated us to call you was watching Alex work single-handedly on a neighbor's yard many months ago.  We were impressed by his fast, steady pace, which quickly brought the project to completion.  We experienced that very same work ethic on our garden when Hans and Alex finished it after only three full work days. Finally, having Iris come over at the conclusion of the project to give it her final approval was an added "bonus" that we very much appreciated.  She patiently answered our many questions, and she took whatever time was necessary to ensure that we understood her explanations.  As she checked the condition of each plant and gave us watering and care suggestions, it was obvious to us that she loves plants and receives great joy from the creations that Alexander's Landscaping presents to its clients. R. & H. L., Sunland
We had a house fire which forced us to leave our house for six months, and when we returned our front, back, and side yards were all dead. After finding a flyer for Alexander's Landscaping on our porch and checking out their website we gave them a call. They made everything so easy. We had only a general idea what we wanted but Alex and Iris brought a photo album of plants as well as samples that we could touch and smell. Once they got started they were quick and neat. Every step of the way they made sure that we were happy with the way everything looked. Now our yards are beautiful and we love them. We could not be happier with the result. D.O., La Crescenta
Alexander, Iris, and Hans were wonderful to work with–professional and affordable, very great value for quality work! They really listened to what we wanted, stayed within our budget, and did a fantastic job in a very timely manner. D.R., Burbank
It all began when I found a flyer on my front gate from Alexander's Landscaping. This had a link to their website so I decided to give it a look. I saw some very nice work and more importantly some inspirational creative ideas that fit my needs. They offered a free consultation so a phone call was in order. I spoke with Iris and we set up a meeting which went so well, I hired them to do a sizable project. This included a custom stone staircase which leads to a 50 FT stretch of block stone steps up to the top of my property where they would build a custom deck with pergola top. This began on time as promised and unbelievably only took 2 weeks to accomplish, even with the add on work I desired as the project took shape. An additional staircase up the side of my drive and some amazing plantings that are local to the area and are drought resistant finished off the job. So very professional and friendly, just really nice people. I consider them friends now and hope to continue a relationship with them. Alex even worked on the 4th of July holiday so I BBQ'd a lunch. Top notch quality work and craftsmanship. Highly recommended. I like to hire local business and with Alexander's Landscaping, you won't be disappointed. J. W., Tujunga
Alex just completed the landscaping of our front yard.  It's beautiful! Rather than the weedy hodge podge of water greedy plants we had before, we now have drought tolerant grasses and flowering plants, plus a beautiful, natural looking walkway through it so we can easily reach the back yard. He understood exactly what we wanted and worked with us to achieve it. We love it, and so do our neighbors and friends who come to the house.
Not only was the price reasonable, but Alex is a capable and knowledgeable professional who is a pleasure to have around.  He kept the area neat and clean throughout, and thoroughly instructed us in how to care for our new plants once it was all finished. I highly recommend him. Thanks Alex! T. G.
I have three words for you: OMG! I just came home and saw the most beautiful yard – I cannot believe it's my yard! I'm just so happy. It exceeds my expectations! I couldn't be happier! R.Y.